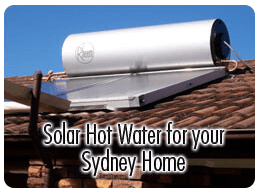 Discover the solar water heater advantage for your home:

1. SAVE MONEY ON HEATING: Because solar water heaters take free energy from the sun, your heating hot water is much cheaper year-after-year, saving you hundreds of dollars on energy costs annually.

2. ENVIRONMENTALLY-FRIENDLY: By using less electricity or gas, solar water heaters help the environment too. There are almost no carbon emissions involved in heating your hot water with solar, and since heating hot water is one of the main residential uses of energy this can make a significant impact.

3. GOVERNMENT REBATES: For a limited time you may be eligible for government rebates of up to $2400 on your new system - a significant saving. Contact us for more information on your eligibility.

4. NOT WEATHER RELIANT: Just because your hot water is heating by the sun, it doesn't mean you're dependent on good weather for your hot water. Your system can be automatically 'topped up' with electric heat like a regular water heater.

5. GREAT WARRANTIES: Omega Plumbing can help show you the best warranties from leading brands like Rheem.

6. PROFESSIONAL INSTALLATIONS: Omega Plumbing provides professional installations. With over 30 years experience, we're already the trusted choice of tens of thousands of homes across Sydney for their hot water needs.


If you're considering a new hot water system for your home, we can help you compare the advantages of solar hot water, and even assist with comparative quotes and estimates of energy savings for different type of hot water system. For all your solar hot water questions and needs in Sydney, call and speak with Omega Plumbing today.
SOLAR WATER HEATER SYDNEY | SOLAR WATER HEATERS SYDNEY | RHEEM SOLAR WATER HEATER SYDNEY | SYDNEY SOLAR WATER HEATERS | SOLAR WATER HEATER REBATE SYDNEY