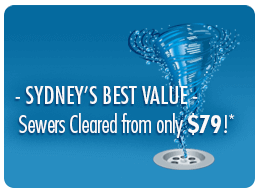 You can read more about your service level guarantee on this page here, and from out other delighted customers on this page here.

Discover the Omega Plumbing difference for your Sydney drain and sewer plumbing: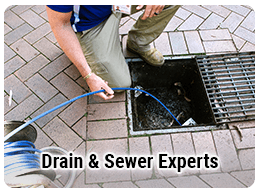 1. FAST, SAME DAY REPAIRS: We can be at your home or business fast 7 days. We have drain and sewer repair teams in multiple locations across Sydney, and our GPS tracking means we can dispatch the nearest available team direct to your door.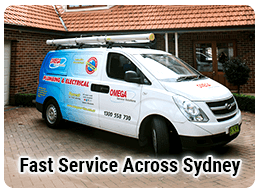 2. ALL DRAIN BLOCKAGES: No matter the blockage, Omega Plumbing have the solution.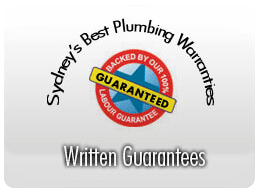 3. GREAT GUARANTEES: When Omega Plumbing fixes your drain or sewer you can be sure of a guarantee. It's complete peace of mind that your drain or sewer is in safe hands. We even offer a lifetime guarantee on relines for as long as you own your home (see warranty for details).

4. LATEST TECHNOLOGY: Benefit from the latest drain and sewer technology, including fibre optic diagnostic equipment that lets you see inside your own drains and sewers, and allows us to pinpoint the problem. We also have the latest high pressure drain jetters, and even 'no dig' trenchless reline technology.

5. DRAIN AND SEWER PROS: With over 30 years experience, and already trusted in tens of thousands of homes across Sydney, Omega Plumbing are the drain and sewer experts in Sydney.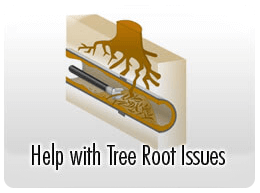 6. TREE ROOT REMOVAL: Tree roots are a common problem with sewer lines, and Omega Plumbing can help diagnose and remove the intrusion into the line.

7. LEAKS AND SMELLS: If you have a sewer or drain leak, or need to locate the source of a bad sewer smell, then we have the latest equipment to locate the problem.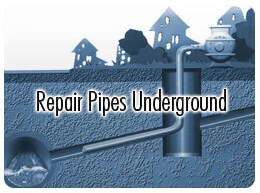 8. NO-DIG SEWER RELINES: With the latest technology, Omega Plumbing can repair sewer and drain lines underground without digging a trench. It's a fantastic innovation that most companies cannot provide - it saves your garden, patios and driveway first and foremost. But in addition to that it can save you the cost of having to repair and replace your landscaping and driveway too. And as a further benefit we are often able to save lines that other companies have to replace. Read more about our industry-leading reline technology on our Sydney trenchless pipe repair page.

9. SATISFACTION GUARANTEED SERVICE: With Omega Plumbing you can be sure of polite and respectful technicians that will look after you and your home. Read more about the great level of service you receive on this page here.

10. UP-FRONT PRICING: With Omega Plumbing there are no surprises, you'll know the full price in advance, putting you in control.

11. GREAT VALUE: Save with our great drain clearing and repair specials. With the latest equipment and years of experience we can clear your drains with an efficiency and price point that other companies cannot match.

For fast drain clearing and sewer repairs across Sydney, call and speak with the professionals from Omega Plumbing today.
DRAIN CLEARING SYDNEY | BLOCKED DRAIN SYDNEY | SEWER CLEARING SYDNEY | DRAIN JETTING SYDNEY | HYDROJETTING SYDNEY | JET DRAIN LINE SYDNEY | TREE ROOTS DRAIN SYDNEY | SYDNEY DRAIN PLUMBERS | REPLACE SEWER PIPE SYDNEY | LEAKING SEWER SYDNEY | LEAKING DRAIN SYDNEY