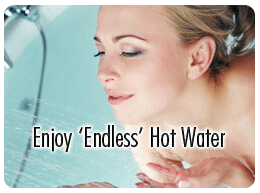 Discover how an Omega Continuous Flow Water Heater installation can help you:

1. 'ENDLESS' HOT WATER: With an instant water heater you'll never run out of hot water, or have to worry about being last in the shower in the morning. With a properly sized system, you'll always have hot water in your home. It's a huge advantage over conventional tank water heaters.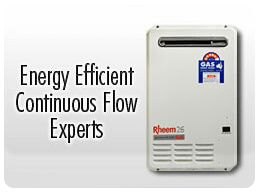 2. CHEAPER TO RUN: Not only can you have endless hot water, but continuous flow water heaters are cheaper to run than conventional systems for equivalent usage. That's because regular water heaters have to keep heating water on the off-chance you need it, which is very inefficient. Continuous flow systems are 'on-demand'. The result, of course, not only means lower energy costs, but it helps the environment too.

3. SAVE SPACE: Continuous flow systems can save the space used by an unsightly tank system. With land and space at a premium, it can be space better used for something else.

4. LEADING BRANDS: Omega Plumbing installs the leading brands of continuous flow water heaters, including Rheem and Dux.

5. GREAT WARRANTIES: We can also help show you the systems with the best warranties - a new continuous flow system should outlast a conventional water heater by many years.

6. PROFESSIONAL INSTALLATIONS: Not only can we provide the best systems, but we can also help you with a professional installation that looks after your home and your time, all backed up by satisfaction guaranteed service. Read more about the Omega Plumbing difference on this page here.


For all your continuous flow hot water questions and needs in Sydney, call and speak with the experts from Omega Plumbing today.
CONTINUOUS FLOW WATER HEATER SYDNEY | CONTINUOUS FLOW WATER HEATERS SYDNEY | TANKLESS WATER HEATER SYDNEY | INSTANT WATER HEATER SYDNEY | CONTINUOUS FLOW HOT WATER SYDNEY | RHEEM CONTINOUS FLOW WATER HEATERS SYDNEY | SYDNEY CONTINUOUS FLOW WATER HEATERS