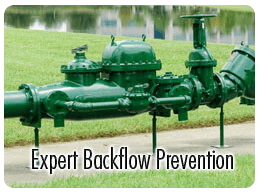 Our backflow specialists can help protect your fresh water supply from contamination, and help your compliance with Sydney Water requirements.

Omega Plumbing's backflow services include:
Annual backflow preventer testing New installations Planning and help with compliance issues Repairs to existing installations
Adequate backflow prevention is not only a compliance issue, it can help protect employees, families, and neighbouring properties from contaminated fresh water and the risk of life-threatening disease. That's why it can be so important to choose a professional plumbing company with more than 30 years experience of servicing the backflow prevention needs in Sydney. Our plumbers are fully trained, licensed and insured. Not only that, but you can be sure of professional, on-time service at a time of your choosing.

For all your backflow prevention needs in Sydney, call and speak with the experts from Omega Plumbing today.
BACKFLOW TESTING SYDNEY | BACKFLOW PREVENTION SYDNEY | BACKFLOW PREVENTOR TESTING SYDNEY | BACKFLOW PLUMBERS SYDNEY | BACK FLOW TESTING SYDNEY | SYDNEY BACKFLOW PREVENTION | RPZ VALVE TESTING SYDNEY | RPZ BACKFLOW TESTING